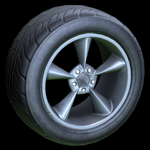 The Stern wheels are a collectible item used to customize a player's vehicle. They provide no advantages while equipped and are purely cosmetic. They are categorized as Common rarity. Painted variants are classified as Exotic or Very Rare (Uncommon if obtained before August 4, 2017)[1] and can only be obtained through trade-ins.
These wheels are available by default for all players. The Alchemist, Almas, OEM and Vortex wheels are also available at start.
This item cannot be traded between players, since it is common. However, painted and certified variants can be traded.
Possible Paint Variants
Trivia
"Stern" is German for "star."
Stern wheels are referred to as "Hydra" in the game files.
References