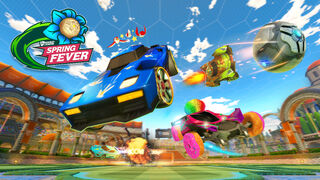 See also: Spring Fever Crate
Spring Fever was the third special event to be introduced to Rocket League. It started on March 19, 2018, and ended on April 9, 2018.[1]
Whereas the Haunted Hallows event used Candy Corn as in-game currency, Spring Fever used Flowers.
Official synopsis

  Thaw the winter cold and collect
Flowers
at the end of online games. After the match, redeem your
Flowers
to grab special Spring-themed rewards! You can also collect and open new Event Crates full of original content (Unlocked Crates are also available to purchase)!  

Items
The following items were available to purchase using Flowers. All items are classified as Limited rarity.
Note - Players were limited to purchasing 5 decryptors and 9,999 Spring Fever Crates with Flowers.
| Icon | Name | Type | Price |
| --- | --- | --- | --- |
| | Dandelion Seed | Antenna | 15 |
| | Koinobori | Antenna | 25 |
| | Hammerhead | Decal | 35 |
| | Swirls | Decal | 50 |
| | Zebra | Paint Finish | 25 |
| | Shooting Star | Player Banner | 15 |
| | Soccer Splash | Player Banner | 25 |
| | Dizzy Birds | Topper | 40 |
| | GG the Clown | Topper | 25 |
| | Rainbow | Trail | 25 |
| | Decryptor | Other | 50 |
| | Spring Fever | Crate | 50 |
Gallery
References