Roblox: DeepWoken - The Loop
Play Sound
Commencing with Patch v1.31 on March 22, 2017, Competitive Season 4 reintroduced the rankings previously used in Season 1, but with major changes and still using the progression mechanic first introduced in Season 2. As a result, the skill tiers were completely reworked, and the number of skill tiers was increased to 19, and the number of divisions were reduced to four for each tier. An improved version of the Competitive ranking system introduced in Season 4 was still used up to the end of Legacy Season 14.
All players were given a soft skill reset at the start of Season 4 so as to prevent the matchmaking issues that occurred in Season 3. Due to these issues, players who were found to have abused the matchmaking system in Season 3 were given a hard skill reset, and did not receive any Competitive Season 3 rewards.[citation needed]
The placement match system was also reworked so that players could climb the ranks faster if they won the majority of their placement matches.[citation needed]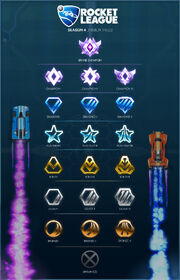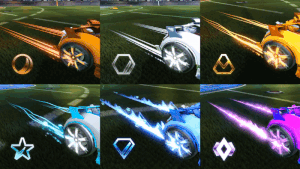 The rewards for Competitive Season 4 were as follows:[1]
Bronze I or higher – Season 4 Bronze Trail
Silver I or higher – Season 4 Silver Trail + lower Trails
Gold I or higher – Season 4 Gold Trail + lower Trails
Platinum I or higher – Season 4 Platinum Trail + lower Trails
Diamond I or higher – Season 4 Diamond Trail + lower Trails
Champion – Season 4 Champion Trail + lower Trails
Grand Champion – 'Season 4 Grand Champion' in-game Title + Champion Trail + lower Trails
References