No Man's Sky Update - The Loop
Play Sound
Ranked Season 1 began with Patch v1.05 on September 8, 2015, and ended with Patch v1.11 on February 11, 2016. Originally, it was not numerically named; it was simply called "Ranked" until Season 2 (Legacy) was released.
Season 1 used a progression system based on Ranked Points. Players ranked up by accumulating 100 RP within a rank. Going below 0 RP within a rank resulted in demotion. Each player who participated in Ranked Pre-Season would also be seeded to a particular rank based on their Pre-Season performance.
Below is the Ranked Season 1 rank list:
Unranked (reserved for players who did not participate in Ranked Pre-Season)
Bronze I
Bronze II
Bronze III
Silver I
Silver II
Silver III
Gold I
Gold II
Gold III
Platinum (reserved for the Top 100 players worldwide)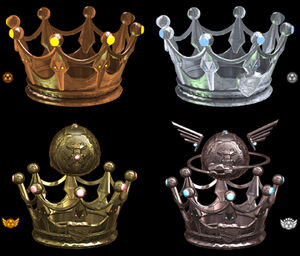 The rewards for Ranked Season 1 were as follows:[1]
Bronze I or higher: Season 1 – Bronze Topper
Silver I or higher: Season 1 – Silver Topper
Gold I or higher: Season 1 – Gold Topper
Platinum: Season 1 – Platinum Topper
In order to acquire these rewards, one would have needed to end in the rank they want the reward in. For example, if you wanted the Gold Crown, you needed to end in Gold I through Gold III. The rewards were not cumulative, and you only got the reward of your rank and nothing lower. If you had the Gold Crown, you wouldn't get the Silver or Bronze rewards.
References