Season 1 is the first competitive season after Rocket League Free To Play and the fifteenth season overall. The season commenced on September 22, 2020[1] and ended on December 9, 2020.
New Ranks
Starting with the launch of Free To Play, a new rank is being added above the current Grand Champion Rank.
Grand Champion will be split into three different Ranks just like the ranks below it. Grand Champion will be split into Grand Champion 1, Grand Champion 2, and Grand Champion 3. Current Grand Champions will likely be placed in Grand Champion 1 (depending on placement matches). Then begins the journey to the new highest competitive rank: Supersonic Legend.
Both Grand Champion and Supersonic Legend will have their own Season Rewards at the end of Season 1, as well as Rank-specific Titles. MMR will still be displayed in the Playlist menu once you hit Grand Champion 1. Good luck climbing to the new top of the Rocket League mountain![2]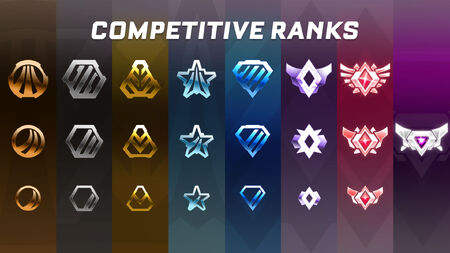 Rocket Pass
See also: Rocket Pass
Free
| Icon | Name | Type | Tier |
| --- | --- | --- | --- |
| | Aquadome Buoy | Topper | Tier 02 |
| | Uncommon Drop | Drop | Tier 05 |
| | SARP Stripe (Octane) | Decal | Tier 08 |
| | Uncommon Drop | Drop | Tier 10 |
| | Carpooler | Player Title | Tier 13 |
| | Uncommon Drop | Drop | Tier 15 |
| | OGBP | Topper | Tier 17 |
| | Uncommon Drop | Drop | Tier 20 |
| | Wet Wash | Player Banner | Tier 23 |
| | Uncommon Drop | Drop | Tier 25 |
| | Rocket Rookie | Player Title | Tier 27 |
| | Uncommon Drop | Drop | Tier 30 |
| | Cactus Cutie | Topper | Tier 32 |
| | Uncommon Drop | Drop | Tier 35 |
| | SARPBC | Wheels | Tier 38 |
| | Uncommon Drop | Drop | Tier 40 |
| | Free Spirit | Player Title | Tier 42 |
| | Rare Drop | Drop | Tier 45 |
| | Gentleman Beef (Dominus) | Decal | Tier 48 |
| | Rare Drop | Drop | Tier 50 |
| | SARPBC | Trail | Tier 53 |
| | Rare Drop | Drop | Tier 55 |
| | Passtronaut | Player Title | Tier 58 |
| | Rare Drop | Drop | Tier 60 |
| | League Shield | Wheels | Tier 62 |
| | Very Rare Drop | Drop | Tier 65 |
| | League Legacy | Rocket Boost | Tier 68 |
| | Very Rare Drop | Drop | Tier 70 |
| | Very Rare Drop | Drop | Tier 80 |
| | Very Rare Drop | Drop | Tier 90 |
| | Very Rare Drop | Drop | Tier 100 |
| | Very Rare Drop | Drop | Tier 110 |
Premium
| Icon | Name | Type | Tier |
| --- | --- | --- | --- |
| | Harbinger | Body | Tier 01 |
| | EKG | Player Banner | Tier 02 |
| | Fish | Rocket Boost | Tier 03 |
| | 10% Party XP Boost | XP Boost | Tier 04 |
| | Lunch Box - Salty Shores | Topper | Tier 05 |
| | Linares (Octane) | Decal | Tier 06 |
| | ANDR01D | Wheels | Tier 07 |
| | Fifth Wheel | Player Title | Tier 08 |
| | Namesake (Harbinger) | Decal | Tier 09 |
| | 5% XP Boost | XP Boost | Tier 10 |
| | League Legacy | Goal Explosion | Tier 11 |
| | 100 Credits | Credits | Tier 12 |
| | String Theory | Wheels | Tier 13 |
| | Liquid Camo | Universal Animated Decal | Tier 14 |
| | Half-Pipe | Topper | Tier 15 |
| | Dominus Dash | Player Banner | Tier 16 |
| | Sally (Harbinger) | Decal | Tier 17 |
| | Gearshifter | Player Title | Tier 18 |
| | Toon Flame | Rocket Boost | Tier 19 |
| | BLSSM | Wheels | Tier 20 |
| | Motor Buggy | Engine Audio | Tier 21 |
| | Camo (Harbinger) | Decal | Tier 22 |
| | 5% XP Boost | XP Boost | Tier 23 |
| | 100 Credits | Credits | Tier 24 |
| | Ravenous (Dominus) | Decal | Tier 25 |
| | Kiwi | Wheels | Tier 26 |
| | Booyah | Avatar Border | Tier 27 |
| | Styler (Octane) | Decal | Tier 28 |
| | Calamaro | Antenna | Tier 29 |
| | Throwback | Player Title | Tier 30 |
| | HRB-20 | Wheels | Tier 31 |
| | 5% XP Boost | XP Boost | Tier 32 |
| | Booyah | Player Banner | Tier 33 |
| | Edge Burst (Harbinger) | Decal | Tier 34 |
| | Sludge | Paint Finish | Tier 35 |
| | 100 Credits | Credits | Tier 36 |
| | Booyah (Octane) | Decal | Tier 37 |
| | Ombre | Avatar Border | Tier 38 |
| | 5% XP Boost | XP Boost | Tier 39 |
| | Cross-Platformer | Player Title | Tier 40 |
| | Hamster | Wheels | Tier 41 |
| | Mister Monsoon | Goal Explosion | Tier 42 |
| | Ombre | Player Banner | Tier 43 |
| | Basket | Paint Finish | Tier 44 |
| | 10000 XP Boost | XP Boost | Tier 45 |
| | Shark Attack | Wheels | Tier 46 |
| | Ombre (Harbinger) | Decal | Tier 47 |
| | 100 Credits | Credits | Tier 48 |
| | Supersonic Acrobatic | Player Title | Tier 49 |
| | 5% XP Boost | XP Boost | Tier 50 |
| | Aught-O | Engine Audio | Tier 51 |
| | Eagre (Harbinger) | Animated Decal | Tier 52 |
| | Excavator | Trail | Tier 53 |
| | Ferris | Wheels | Tier 54 |
| | Agamid (Harbinger) | Animated Decal | Tier 55 |
| | Marble | Paint Finish | Tier 56 |
| | Renegade | Player Title | Tier 57 |
| | 5% Party XP Boost | XP Boost | Tier 58 |
| | Sk8ter | Wheels | Tier 59 |
| | 100 Credits | Credits | Tier 60 |
| | Martian Wind (Harbinger) | Animated Decal | Tier 61 |
| | Supernova | Rocket Boost | Tier 62 |
| | Huntress (Harbinger) | Decal | Tier 63 |
| | Propeller | Wheels | Tier 64 |
| | Auger | Uinversal Animated Decal | Tier 65 |
| | 5% XP Boost | XP Boost | Tier 66 |
| | 100 Credits | Credits | Tier 67 |
| | Spatial Rift | Goal Explosion | Tier 68 |
| | Mandala | Wheels | Tier 69 |
| | Harbinger GXT | Body | Tier 70 |
| | 100 Credits | Credits | Tier 80 |
| | 100 Credits | Credits | Tier 90 |
| | 100 Credits | Credits | Tier 100 |
| | 100 Credits | Credits | Tier 110 |
Special Edition
When a Pro Tier item is unlocked, you get a 'Special Edition' version of the Mandala, Hamster and Propeller wheels:
Competitive Season Rewards
The rewards for Competitive and Extra Modes for Season 1 were as follows:[3][4]
Grand Champion Title Rewards:
Competitive Grand Champion: "S1 GRAND CHAMPION" in Crimson text
Rumble Grand Champion: "S1 RNG CHAMP" in Crimson text
Hoops Grand Champion: "S1 DUNK MASTER" in Crimson text
Snow Day Grand Champion: "S1 BLIZZARD WIZARD" in Crimson text
Dropshot Grand Champion: "S1 FLOOR DESTROYER" in Crimson text
Supersonic Legend Title Rewards
Competitive Supersonic Legend: "S1 SUPERSONIC LEGEND" in Titanium White text
Rumble Supersonic Legend: "S1 RNGENIUS" in Titanium White text
Hoops Supersonic Legend: "S1 LEGENDARY BALLER" in Titanium White text
Snow Day Supersonic Legend: "S1 ICE TITAN" in Titanium White text
Dropshot Supersonic Legend: "S1 TILE ANNIHILATOR" in Titanium White text
References