At the conclusion of a match, there is the option to save a replay of that match. These files are saved to the following location[1] and are typically ~1.25 MB in size.
%USERPROFILE%\Documents\My Games\Rocket League\TAGame\Demos
Replays can be opened through the "Extras" option on the main menu, and are displayed in chronological order.
The files have a *.replay extension, and cannot be directly converted into videos. They instead contain data for the game to recreate the match replay whilst running the game in replay mode. To create a video, use a screen recording or game recording software (e.g. FRAPS, ShadowPlay, etc.) while playing or watching in replay mode.
Director Mode Beta
The Autumn Update will also see a significant but experimental addition to spectating and Replays: 'Director Mode' comes with the update as a beta feature, putting an AI in charge of camera movement and placement while you watch Replays, or spectate matches. Powered by a deep analysis of match data and a brand new camera-controlling AI, Director Mode aims to give viewers the best position possible without pushing a button.
The automated control will be especially relevant when it comes to choosing which Player Camera to focus on, and when to switch to a different player. Whether you're streaming or spectating, having the speed and knowledge to shift between specific players, instead of opting for wider shots, can make or break the look and feel of a video or stream.[2]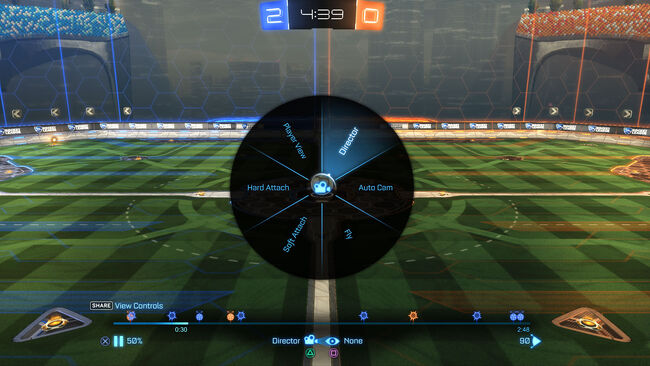 Director Mode lives with the rest of the Camera Options available to you while spectating or watching Replays, and is a completely optional function. Watching the new mode at work can help inform you on how to set up manual controls later on, while those new to the streaming scene can use Director Mode to easily showcase matches to their followers.
Controls
Action
PS4
PC
Xbox
Notes
Camera Up

W

Applies to all camera modes except for "Player View" or "Auto Cam".
Camera Down

S

Camera Movement

W

A

S

D

Camera Swivel
—
Windows controls can be set.
Pause (tap) / Speed Menu (hold)
Toggle UI
Switch Focus (tap) / Focus Menu (hold)

⇧ Left Shift

Switch Camera (tap) / Camera Menu (hold)

Space

Camera modes: Auto Cam, Fly, Soft Attach, Hard Attach, Director
Zoom Camera In
Applies to all camera modes except for "Player View" or "Auto Cam".
Zoom Camera Out
Scoreboard

Tab ↹

Reset Roll (tap) / Hold To Roll

F

Show Controls
??
??
Add Key Frame (hold)

1

Remove Keyframe (hold)

2

Next Keyframe (tap) / Fast Forward (hold)

3

Previous Keyframe (tap) / Rewind (hold)

4
See also
References
Community content is available under
CC-BY-SA
unless otherwise noted.