"RLCS" redirects here. For the decal, see RLCS (decal).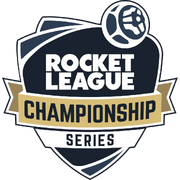 The Rocket League Championship Series, or RLCS, is an eSports event founded by Psyonix in partnership with Twitch.
Psyonix had observed the popularity of Rocket League matches on Twitch.tv and other live streaming platforms, and in February 2016, were looking to use the game more in eSports. On March 2, 2016, Psyonix announced the first Rocket League Championship Series;[1] the finals took place in August 2016 with a $55,000 prize pool. The second season of the championship series took place in December 2016 with a $125,000 prize pool. A third series began in March 2017, with the $300,000 prize pool finals taking place in three months later.
Psyonix announced that going forward into 2017, it will use more than $1 million in revenues from the sale of in-game crates and cosmetic items to fund additional competitive events throughout the year, including smaller competitions at major gaming conventions and support for community-run competitive events.[2]
See also
References
External links