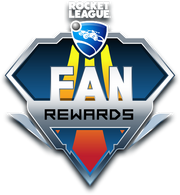 The Fan Rewards program was introduced by Psyonix prior to the 2017 RLCS World Championship finals.[1] By watching live Twitch streams enabled for item drops, registered players have a chance to obtain exclusive tradeable Decals, Rocket Boosts, Toppers and Wheels as part of the Twitch "Drops" platform. They were not guaranteed for every viewer, however.
On February 24, 2021 the Fan Rewards system moved to time based system using the Twitch's new Drop Campaign. Since then Fan Rewards are guaranteed for every account that watched the Drops enabled stream for specified amount of time. [2] [3] [4] [5]
Items are available for Nintendo Switch players since 2018-04-13.
The current RLCS Fan Rewards are available from 2021-10-15.
Rocket League World Championship Weekend