The new Challenges system features Weekly, Season, and Event Challenges. Each week, players get three free Weekly Challenges. When the week refreshes each Wednesday, three new Challenges replace the Challenges from the previous week. Plus, Rocket Pass Premium users get an additional three each week. Weekly Challenges have to be completed during the week when they are active.
Season Challenges, like the name suggests, span the entire season. These take longer to complete, but grant better rewards. Some Season Challenges are available when the season starts, while the rest gradually unlock in stages as the season progresses. Rocket Pass Premium users get twice as many Season Challenges to complete.
Players can track your Challenge progress in the Challenges widget being added to the right side of the main menu, as well as in the Challenge Menu. The Challenge Menu is where you track your Challenges and see the rewards you can receive. It's also where you claim your rewards on all your completed Challenges, which you can do once you complete them. Rewards will include customization items, XP, or Drops.
After the launch of Free To Play, Challenges and Drops are the primary way to earn free items instead of receiving items from leveling up.[1]
New Driver Challenges
Players picking up Rocket League for the first time see the New Driver Challenges in their Challenge Menu. This is how new players unlock items that were included in the base game prior to going free to play. New accounts will only have access to Octane, Breakout, and Merc to start, but New Driver Challenges will expand their garage and unlock some of the common cars and items that were already unlocked in the paid version of Rocket League. Complete the New Driver Challenges or reach Level 20 to gain access to Weekly Challenges.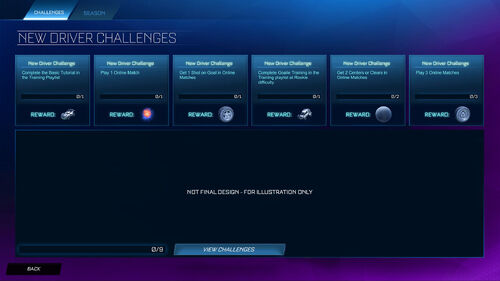 Weekly Challenges
After you reach Level 20 to gain access to Weekly Challenges you will be able to gain each week a set of XP point Bonuses and a Rare Drop on free version and xp bonuses on premium version.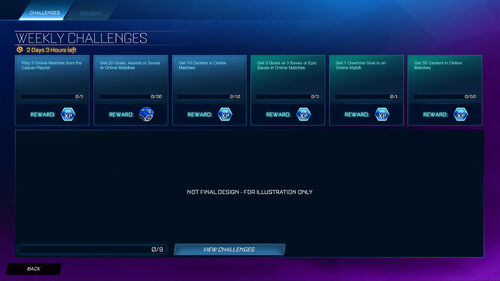 Season Challenges
After you reach Level 20 to gain access to Season Challenges you will be able to gain XP Bonuses, 3x Rare Drops or even Items (on Free track) and more XP Bonuses on Premium Track. Each Season contains 4 Stages, each stage is set to appear on certain time during the Season. Additionally for completing 22 or more Free challenges you can gain a Challenges Season Reward containing Rare, Very Rare and Import Drops.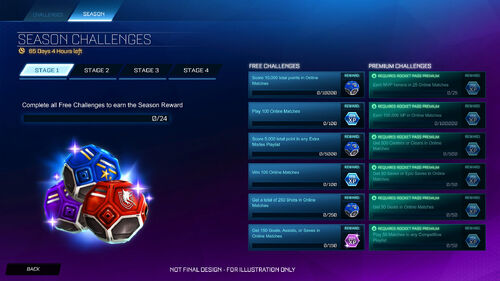 Gallery
References
Community content is available under
CC-BY-SA
unless otherwise noted.