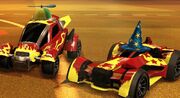 Bots are AI-controlled non-player characters that can assist or oppose the player in a match. In offline matches, their skill level is based on their difficulty setting.
A player can play a game with just bots, or bots can fill in spots of dropped players in online matchmaking (excluding competitive matchmaking).
List of bots
Bot teams
When playing Season mode, the following teams are available as opponents and have a theme of bot names and sometimes accessories. If the player uses one of these teams' logo for their own team, the bots will be available as team mates.
Team
Bot Name
Reference Notes
Common or Thematic Accessories
Bombers
Marley
Casper
Myrtle
Samara
Each is named after ghost characters:




Jacob Marley from A Christmas Carol.
Moaning Myrtle from Harry Potter.
Casper the Friendly Ghost.
Samara the ghost girl from The Ring.




The team name could be a reference to ghost bombers, an often-reported sighting of spectral WWII planes seen flying over wreckage areas.

Decal: Wings (Marley has Skulls instead)
Wheels: Tempest (Marley uses Stallion instead)
Marley has the Halo topper

Cyclones
Storm
Fury
Rainmaker
Squall
All are weather-related terms or descriptions.

Decal: Lightning
Wheels: Vortex

Dragons
Hound
Viper
Imp
Mountain
Each is named after characters from Game of Thrones:




Sandor "The Hound" Clegane
Oberyn "Red Viper of Dorne" Martell
Tyrion "The Imp" Lannister
Gregor "The Mountain" Clegane

Though none are common, each has references to their respective characters:




Hound has the Flames decal, referencing the incident where his face was burned
Viper and Mountain have the Skulls decal, referencing their duel which ended in a crushed skull; Viper also has the Skull antenna
Viper's car is Venom, referencing the venom coat on his spear tip
Imp uses the Lowrider wheels, possibly a reference to his stature
Mountain uses the Stallion wheels, possibly a reference to the incident where he cut his horse in half

Express
Tusk
Sabretooth
Beast
Roundhouse

Possibly a reference to X-Men (Tusk, Sabretooth, and Beast).
Possibly a reference to railroading as the team name suggests.
Roundhouse is a building for train servicing.
There is a railroad running from Mexico to the US nicknamed "The Beast".

Wheels: Mountaineer (Roundhouse uses Stallion instead)
Guardians
Gerwin
C-Block
Centice
Junker
Reference to SARPBC players.
Wheels: Invader
Mammoths
Foamer
Sticks
Boomer
Caveman
All are possibly prehistoric-related terms.
Wheels: Trahere (Caveman uses Bender instead)
Monarchs
Rex
Khan
Raja
Sultan
Each means king in various languages:




Rex: Latin
Khan: Turkic languages
Raja: Indian languages, probably from Sanskrit
Sultan: Turkish, ultimately from Aramaic

Topper: Royal Crown
Wheels: Sunburst
Seekers
Saltie
Scout
Swabbie
Middy
All are nautical terms:




Saltie: Ocean-going ship
Scout: Vessel used for surveying
Swabbie: Sailor
Middy: Midshipman

Topper: Pirate Hat
Wheels: Stern (Stern is the back of a ship)
Rebels
Bandit
Outlaw
Poncho
Dude
All are Wild West-themed terms.

Wheels: Alma
Poncho has the Sombrero topper
Dude has the Horseshoe antenna

Rovers
Buzz
Armstrong
Shepard
Yuri
Each is named after astronauts:




Edwin "Buzz" Aldrin
Neil Armstrong
Alan Shepard
Yuri Gagarin

Decal: Stars
Wheels: Veloce
Buzz has the US flag antenna
Armstrong has the Planetoid antenna
Shepard has the Star antenna
Yuri has the Russian flag antenna

Skyhawks
Maverick
Iceman
Goose
Cougar
Each is named after characters from Top Gun.

Decal: Wings
Wheels: Dieci
Goose has the Halo topper, referencing his death in Top Gun

Teammate
Tex
Merlin
Stinger
Hollywood
Sundown
Jester
Heater
Slider
Chipper
Wolfman
All are characters from Top Gun, except for Heater. Though Heater may come from the inspiration of the film, an article featuring aerial photography from Lieutenant Commander Charles "Heater" Heatley.
See below
Team mate accessories
| Name | Body | Decal | Wheels | Rocket Trail | Topper | Antenna |
| --- | --- | --- | --- | --- | --- | --- |
| Tex | Road Hog | Stars | Bender | Standard Blue | — | United States (Country Flag) |
| Merlin | Paladin | Stars | OEM | Sparkles | Wizard's Hat | — |
| Stinger | Venom | Lightning | OEM | Thermal Green | — | — |
| Hollywood | Breakout | Stars | Lucci | Money | — | Dollar Sign |
| Sundown | Breakout | Stripes | Sunburst | Flamethrower | — | — |
| Jester | Gizmo | Flames | OEM | Confetti | Propellerhead | — |
| Heater | Merc | Flames | Tempest | Flamethrower Red | — | — |
| Slider | Hotshot | Tech | OEM | Standard Red | — | — |
| Chipper | Backfire | Tech | Stern | Standard Red | — | — |
| Wolfman | X-Devil | Flames | OEM | Standard Red | — | — |
Community content is available under
CC-BY-SA
unless otherwise noted.