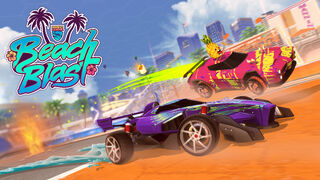 See also: Beach Blast Crate
Beach Blast was the fourth special event to be introduced to Rocket League. It started on June 11, 2018, and ended on July 2, 2018.[1]
Whereas the Spring Fever event used "Flowers" as in-game currency, Beach Blast used "Shells".
Official synopsis
Summertime hasn't arrived just yet, but that's not keeping us away from the beach -- and we're taking YOU with us! Beach Blast is Rocket League's next in-game Event and it kicks off just before the summer arrives, you'll be able to purchase 'Beach Blast' Crates with 'Shells' you earn for playing Online matches.
Items
The following items are available to purchase using "Shells", and each item's price is listed in brackets. All items are classed as Limited.
Antennas
Decals
Toppers
Trail
Other
Gallery
References
Community content is available under
CC-BY-SA
unless otherwise noted.